I am a very lucky girl. A while back I posted about wanting a bridal shower, and how I wasn't really sure if I would have one. My matron of honour (sister Karen) lives in Fort McMurray - a bazillion miles from here - and neither of my two oldest friends, Jen and Amanda, actually live in Vancouver. I didn't honestly think that anyone else would want to put up with the hassle of corralling my assortment of friends for a hen party!
Little did I know that I was to be lucky enough to have four parties... yes, FOUR! One of them is a pedicure party that I put on myself, so my sister and mom would have a chance to meet some of my Vancouver friends a few days before the wedding. But the other three were a complete and delightful surprise!
First of all, the ladies at work - all 12 of us - usually get together for showers, etc. But with our head of HR, "chief party planner", on mat leave, I had my doubts. Last Thursday one of the women had asked me to lunch. As I headed down to her car to meet her, I saw the gaggle of women in the elevator. As I rushed to join, one of them yelled out "It's full!" as they shut the doors! As my spidey senses tingled, I tried to feign ignorance on the drive to a Greek restaurant that Christina's husband had "recommended". Of course as we drove up, I saw Tanya struggling with her crutches to beat me inside the restaurant, so cute! The cat was out of the bag, but I didn't care. I love having the women at work come together for things like this - it's what makes us GIRLS!!! During a great lunch, free of "talking shop", I found out about how Alison is volunteering at a post-partum depression group, about how Fiona's husband published another concerto and saw pictures of Marilou's song graduating high school. Afterwards they gave me a gift certificate for a wonderful spa. Spa visits are something that my practical side rarely lets me enjoy, so I'm going to savour this one!
Secondly, I have a group of ladies that I get together with on a fairly regular basis - Wendy, Lisa and Jenn. We all used to work together and decided, after our office was shut down, that we still wanted to stay in contact. We call ourselves the "Stitch n' Bitchers" since when we started, we were actually supposed to make things during our visits. It never really came out that way - instead we gab and try not to spit food while talking since we are usually filling our faces!
Anyways, the ring-leader Lisa - who is also my wedding photographer - emailed me to set up a Sunday brunch and S&B photo shoot for her portfolio. I had a hunch that something was up when Jason asked for Jenn's (the hostess') number... but I had no idea that waiting for me were 11 of my dearest girlfriends including Amanda, from Victoria, and Kylie, from Calgary. These girls don't even know one another and when I get there, they are chatting like old friends! I was shocked and didn't know quite how to react when I turned around and Jordan and Lisa (from my step class) were standing there, nearly blending into the wall! And Deb, 7 months pregnant coming around the corner with Casey and Wendy... so amazing. Andrea, my future big sis, showed up with delicious mushroom poo-poos and a new friend Rachel in tow, cool!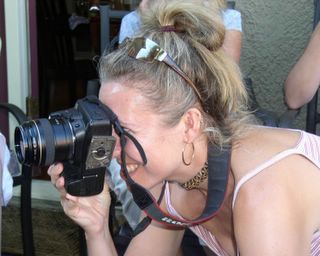 Photo-chick!

Lisa was snapping photos while we sat around a sumptuous potluck feast and I went around the room telling a little story about each friend. A sweet and caring group, not to mention successful! Stories about triathlon PBs, quilting prowess, world travels, writing marvels, swimming... such an elite collection of women and people that I am proud and lucky to have in my life. Close to the end, they gave me a HUGE gift certificate to spend on shoes (I LOVE SHOES), along with some champagne and a beautiful silver necklace (I'm like a crow, I LOVE SHINY THINGS)... but most cherished of all was a scrapbook that they all contributed a page to. Years worth of memories with Amanda, heartfelt wishes from Jenn and Jordan, Wendy's quilting page, Casey's welcome advice. Even Patti who couldn't be there put a page in.
Lisa's funny poem - that I still can't get through without crying:
"... So next on the list is making a little Camp, and when Callie is running a tri nine months pregnant, she surely will cramp.
So you pace around impatiently as you try and conceive, all you really want is to get that sweet maternity leave..."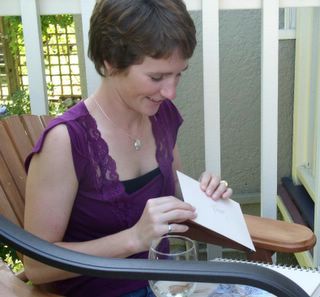 The scrapbook!

I got pretty choked up as I went through it! I was quite sad that my friend Jen was unable to make it, but this morning I woke up to a FedEx package full of lacy underthings and a funny card from her! I can hardly wait to see her the night before my wedding! She helped me pick out my dress and has given me a lot of really good advice, I wish she still lived here!!
Finally, I have a stagette on Thursday but it's not a surprise... or maybe there's yet another surprise waiting for me?